Friday, December 16, 2016
Saturday, December 10, 2016
Who is excited for Christmas? Spending Christmas in Walt Disney World or Disneyland is extra special. This week Kelly has a wonderful collection called Very Merry to make your scrapbook pages magically festive! In addition to the kit, Page Starters and Word Art, she has made some amazing coordinating Christmas card templates. Whether you have been to a Disney park during the holidays or not, you will find so many ways to use this fabulous collection over and over again!
The kit is jam packed with festive patterned and solid papers and a shimmery red and gold full alpha set. Unique elements include Mickey ornaments, Mickey Santa hat, regular Santa hat, frosted trees, candy canes, stockings, deer, lamp post, gifts, strands of lights, snowflakes, pine cone, and more!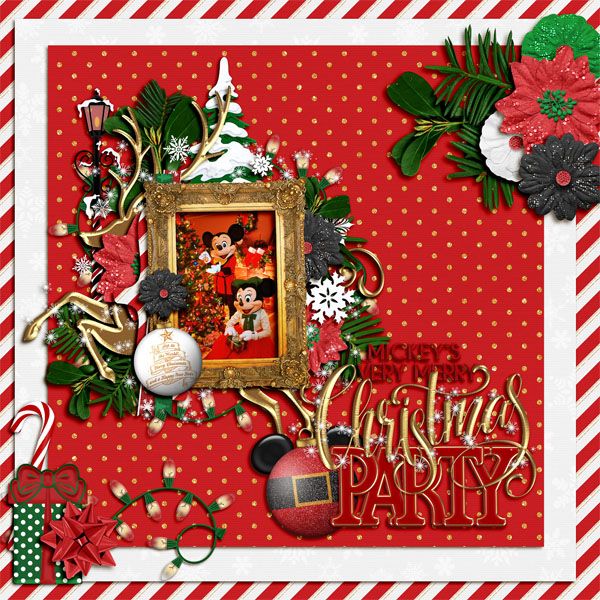 Now how about some wonderful coordinating freebies from the team? You can find them at Charlene's blog, Linda P.'s blog, and Jessica's blog. Have a great weekend and happy scrapping!
Friday, December 2, 2016
What is better than a gourmet night out with a special someone? This week Kelly has a wonderful mini kit, Cruise Dining Remy, to help you create pages of your fine dining experiences. If you haven't cruised yet, you will still find plenty of ways to use this kit: Epcot's France Pavilion, meet and greets with Remy, and the Epcot Food and Wine Festival's Remy's Ratatouille Hide and Squeak game, to name a few. Be sure to pick up the matching Page Starters and Word Art, Tags and Flairs.
This kit is packed with beautiful, rich colored papers and an elegant full alpha set. Unique elements include Chef Remy, wine, Eiffel Tower, utensils, china, cutting boards, cheese, bread, chef hat and so much more!