It's a new year and Kellybell Designs has a new set of blog challenges for you each month. The format is changing a little bit to allow for more flexibility and creativity. Plus, everyone who submits a layout each month will receive a participation prize. Kelly's Creative Team has been busy whipping up freebies for you and I think you're going to like them!! And the most outstanding layout will receive a gift certificate to Kelly's store.

Here's the participation prize you'll receive this month for playing along. It was made by CT Member JessicaK. And it's perfectly coordinating with the girly theme.
Scrap a page that showcases something girly at Disney. This can be a meet and greet with a female character (like Cinderella, Minnie Mouse, Marie, Daisy Duck), a show or ride more targeted to girls (like Beauty and The Beast Live), or park photos with your daughter, mother or you in it (as long as at least 1 photo has a female in it)
You can use as many photos as you want and include as many elements and papers that you choose. We want to see your creativity sparkle!
Layouts should be made with 100% Kellybell products or freebies (you are allowed to use a template from another designer). You are welcome to submit more than 1 layout.
Post your layout into the Challenges Gallery at Kellybell Designs by midnight EST February 28th. Participation prizes will be sent to the email address you have listed with Kelly's gallery.
The most outstanding layout will be announced the first week of March. That's also when the participation prizes will be sent out.
Kelly has sooooooo many beautiful princess kits and girly stuff in the store. You might think about scrapping with some of these kits.
Wow, that was quite a list! I'm sure you can come up with lots of ideas to scrap that have something girly about them.
For some inspiration and layout ideas, here's a page that I scrapped.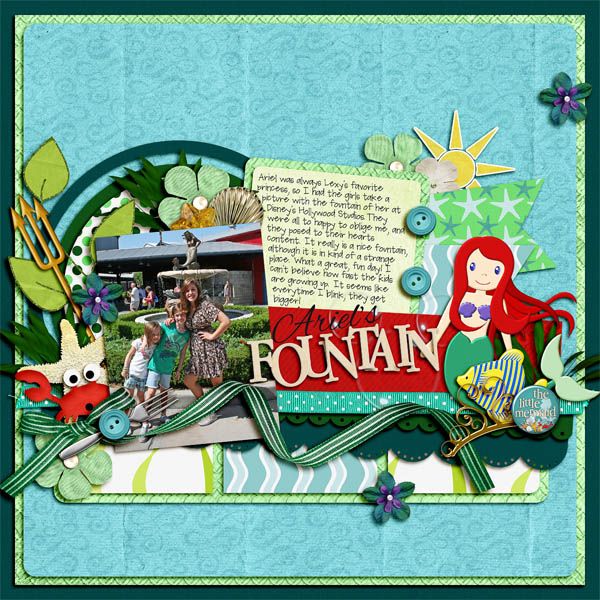 Can't wait to see what your girly layout looks like! Have fun scrapping this month. Don't miss out on getting your layout submitted to the Kellybell Challenge gallery. The princess word art participation prize is amazing!!