Burgers and milkshakes. Two of the basic food groups when you are on a Disney vacation! If you want a fun lunch or dinner with a little old time atmosphere, then head on over to Sci-Fi Dine-In Theater Restaurant at Disney's Hollywood Studios. You can watch some crazy black and white movies and silly cartoons while you eat your meal inside a drive in car shaped booth. It's such a fun place, have you been there?
Kelly's collection this week is inspired by all that sci-fi silliness and drive-in fun. It's a fabulous collection that's so versatile. It's called....
This kit works well for any sci-fi theme. You might find yourself scrapping a page for Astro Orbiter, Mission Space, Buzz Lightyear, Cosmic Ray's Starlight Cafe as well as the famous Sci-Fi Dine-In Theater. Inside this kit you'll find an assortment of out of this world elements including 2 drive-in cards, hamburger, milkshake, french fries, hot dog, popcorn, space ship, alien, menu, flowers, restaurant neon signs, galaxy swirls, soda bottle, mustard and ketchup bottles, license plates, star fields, frames, ribbons, star rings and much more. There's 15 papers in spacey galactic patterns and colors. Plus there's a funky yellow alpha outlined in red and black.
You might also like the coordinating word art titles as well as the premade page starters and paper stacks. There's 2 cluster borders and 3 cluster frames in the page starters.
Each pack in this collection is priced at 25% off for this weekend only. You can find these and all of Kelly's designs at
www.KellybellDesigns.com
. Head on over to her store to pick them up. Now let's take a look at some creative inspiration
This collection is so versatile for any kind of sci-fi themed layout. Check out the page that I made: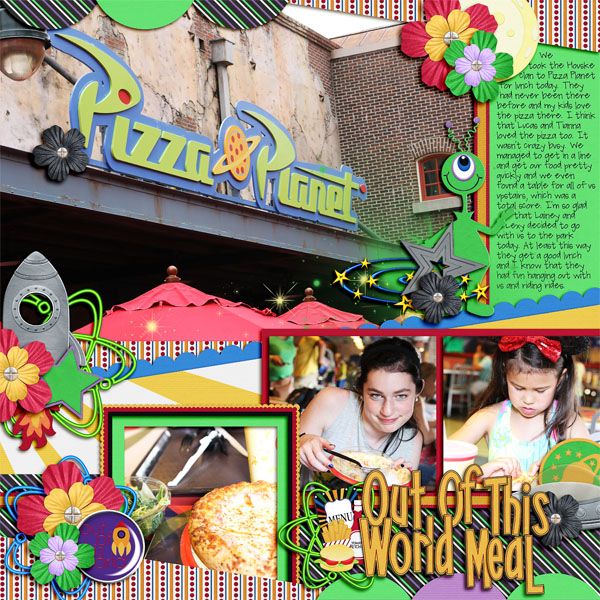 Kelly and her team have 3 amazing freebies to share with you today. These freebies are so adorable, you're going to love them! You can find them at the blogs below. Have a great weekend!
Jennifer - http://ibrakeforthemouse.blogspot.com/
JessicaK - http://www.13point1memories4jess.blogspot.com/
Kelly -http://kellybelldesigns.com/blog/