Yeehaw and howdy pardner! It's time to mosey on down to the corral and check out what's new in the barn today. Kelly's got a wild, wild treat for you today! It's a fun new collection inspired by Disney's Frontierland. It's filled with lots of western and locomotive goodies! Take a look at this week's new release called....
This kit is amazing! It's perfect for scrapping photos from Frontierland, Big Thunder Mountain Railroad, character meetings with Frontier Donald or Woody and Jessie, the Shooting Arcade, Tom Sawyer island and lots of other western themes.
The kit contains 15 papers in beautiful patterns, wood and plaids. Inside you'll find barrels, wagon wheel, locomotive engine, lanterns, horseshoe, covered wagon, flowers, stitching, mountain, trees, chicken wire, jug, coonskin cap, wanted poster, saddle, train tracks, boot, sheriff's badge, frames, butter churn, camp fire, cowboy hats, stove, snake, water pump, train whistle and so much more. You'll also get a matching full brown alpha.
The pre-made packs include 5 different page starters featuring 2 cluster strips and 3 frame clusters. There's also a set of 5 word art titles and 4 paper stacks. These are gorgeous and expertly clustered making them so easy to whip up a quick layout.
This new collection 'The Wild Frontier' can be found at
www.KellybellDesigns.com
and will be sold for 25% off this weekend only. Make sure you browse through the store, there are lots of great Disney collections to be found!
It's amazing how versatile this kit is. Here's a page that I made.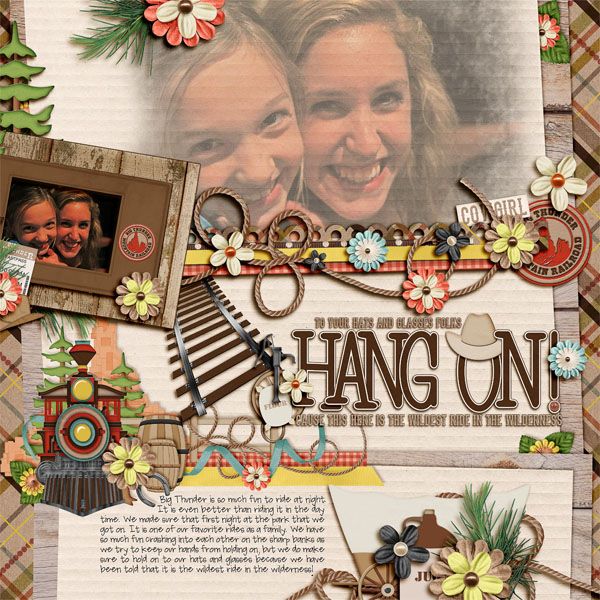 Kelly's Creative Team has 3 fabulous freebies for you that coordinate with 'The Wild Frontier' collection. Make sure you stop by all 3 gals and give them a hug too. Happy scrapping and have a great weekend!