Ladies and gentlemen! Come on down to the Big Top for a thrilling view of the new Fantasyland expansion! Just this week, several new attractions were opened at Disneyworld in Fantasyland as part of Storybook Circus including one spinner of the dueling Dumbos, Barnstormer-The Great Goofini and Fantasyland Train Station. There's so much more planned for the next 12 months.

To celebrate the opening of the new Fantasyland expansion, Kelly has created a fabulous storybook circus kit that will rock your socks!!
Announcing....


Filled with 18 bright and bold circus theme papers in fun patterns, stripes and starbursts, the 'Big Top' kit is so full of energy! The elements are so playful, there's a train car, hoop with fire, circle stand, circus tent, Dumbo, swirls, clouds, flairs, word strips, flowers, scatters, ribbons and scalloping. It's such a gorgeous kit.
Check out the fun circus alpha in a playful white and teal. There are 5 different word art titles that are fabulous for a Fantasyland or Dumbo layout.
Kelly's page starter clusters just keep getting better and better! Look at all the ribbons, paper strips, swirls and elements all clustered together.
There are 4 paper stacks to choose from. Each featuring a different color scheme to capture all the different sights and sounds in Fantasyland. Grab one of these papers, add in a frame cluster, top it off with a word art title and your layout is complete!
And with Kelly's new collections, you can get all 4 pieces packaged together in a bundle.
All of Kelly's new releases are 25% off this weekend only (except for bundles that are already value priced). You'll definitely want to check these out and grab all of them at
Kellybell Designs.com
.
You can't help smiling and feeling happy when you're scrapping with this kit. The colors are so lively and fun! Here' a page I made with the 'Big Top' collection.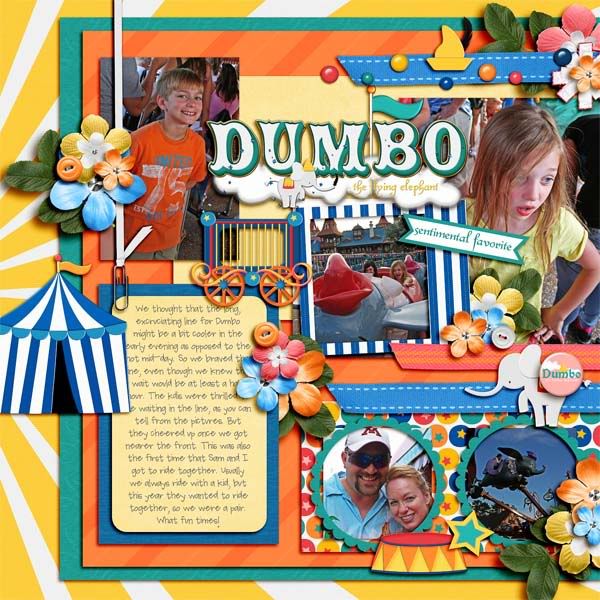 Grab your box of popcorn and let's stroll through Kelly's Creative Team to grab some 'Big Top' goodies. Here is your path today:
Jamie's Blog
,
October's Blog
, and
Roxana's Blog
. Hope you have a Disney trip planning in the next 12 months to see all the wonderful new Fantasyland attractions! Enjoy and have a great week!