Here we gooooo! Get ready to fly on an amazing adventure with Peter Pan and all his friends! Kelly has a special treat for you today. Not only is she bringing a wonderful kit out of the vault to share with you, she's also adding a whole new Neverland collection. It's time to Remember The Magic of....
'Off To Neverland' was tucked away in the vault, but now it's coming back into the store. This kit is just adorable and filled with 15 papers along with a city silhouette, street lamp, pirate hook, Peter Pan hat, telescope, compass, dagger, pixie dust and more. A great kit for your pirate adventures.
The matching word art pack has 5 titles for all your Peter Pan friends.
Since 'Off To Neverland' was tucked away in the vault and not included in the Grand Re-Opening Sale, Kelly is offering the kit and word art for 50% off this weekend only. That's an awesome deal so make sure you put them in your shopping cart!
Kelly was having way too much fun creating an add-on that she ended up designing a whole new collection to the Neverland series. She's added a full sized kit, word art, page starters and paper stacks.
Introducing....
'Return To Neverland' is a playful new kit filled with 15 papers in bold colors and patterns. You'll find an assortment of 43 elements including a clock tower, clock face, crocodile, belt, clouds, Peter Pan hat, sword, alarm clock, anchor, pirate ship, moon plus some gorgeous glitter stars, flowers and word art tags. This kit is perfect for scrapping your pirate adventures as well as layouts with Peter Pan, Captain Hook, Mr. Smee, Wendy and Tinker Bell.
The green alpha has a fun and mischievous feel to it. So perfect for titling your Peter Pan pages. There are 7 titles in this word art pack.
Check out the amazing clusters, frames and border in the Page Starters collection.
Bold papers bring out such honest emotion. When you put them together in blocks and strips or angle and split them, you come up with some truly stunning paper stacks. You'll really saw 'Wow' when you check out these paper stacks!
The 'Return To Neverland' collection will be on sale for 25% off this weekend only at
Kellybell Designs.com
. So many cool new designs to browse through this weekend!!
Having prepackaged word art, page starters and paper stacks make it a breeze to get a layout started! Take a look at what I created with this new collection.
And now for the fun part! As Tinker Bell sprinkles her pixie dust on us, we'll all hold hands and fly together to pick up 3 freebies. Our first destination is
Kelly's Blog
, then to
Jenn's Blog
, and finally to
Roxana's Blog
. And don't just grab and go, give the ladies a little love along the way!! Remember to "never grow up" and be a kid at heart. Giggle your way through the day and have a fun week!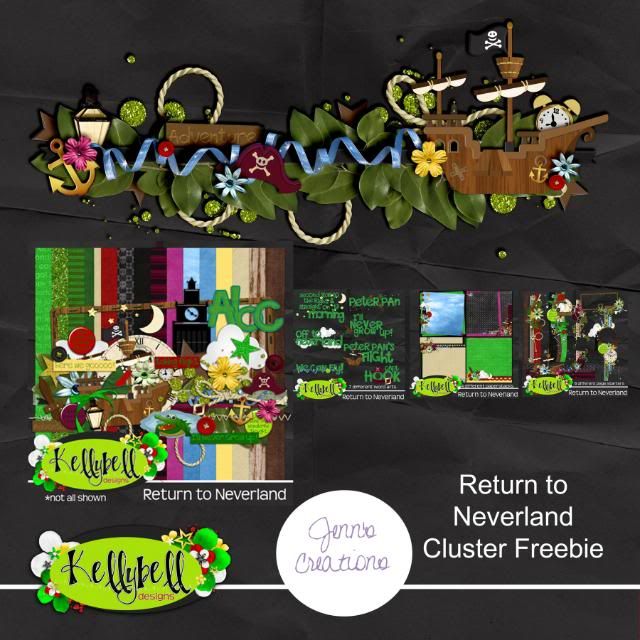 Click image to download or you can click
here